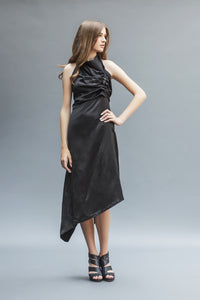 This little black dress is the ultimate go-to for evenings with champagne and lots of dancing! Each dress is hand draped individually on a dress-form with beautiful flowy black satin fabric, which has an amazing drape and light matte finish that is both sexy and forgiving. The body of this backless dress is cut on a bias, allowing the wearer a close fit without the dress being tight in any way. The fabric is also slightly heavier weight than regular satin with a light stretch, making it a dream to wear.




Each dress is individual and unique, using hand draping, cutting, and sewing. The back is very low and sexy, and is finished with one hook + eye and an invisible zipper. Each dress has a single layer of fabric, and a elegant bustle in the back. Most clients choose to either wear an adhesive bra or go without a bra completely. Keep in mind that the dress is fully lined, so it is possible to go without a bra if you would prefer.

Since each dress is individually hand crafted, draping detail, bustle size, and hem length will vary slightly. If you have a preference on length or angle of the asymmetrical hemline, draping along the bust, or depth of the open back, please let me know and I can follow your requests at no extra charge.

Dress:100% Miyuki Satin. 95% Polyester 5% Elastane. Dry clean only.

Model wears size 4 in Black.




When to start shopping for your dress?

We recommend you start shopping at least 9-12 months before your wedding day, and ideally purchase your dress 6-9 months in advance.

When do I need to order my dress by?

We require a minimum of 4-6 months to make your dress so that we can order your fabric and professionally cut and sew your dress by hand in our studio in Vancouver Canada. If your wedding day is less than 5 months away, please contact us with your requests, as we will do our best to accommodate you.

All bridal and evening wear is shipped through Fedex. Delivery time for bridal and evening wear range from 2-4 business days, worldwide.